Wir lieben Blumen und führen ein breites Spektrum an saisonalen und oft auch regionalen Schnittblumen und Pflanzen. Unsere besondere Leidenschaft ist die Floristik. Von Herzen gestalten wir Eure und Ihre Blumendekoration zu allen Anlässen.
Send flowers online
Unique creations

Delivery from 5,00€

Take away
Simply send flowers from a local florist
Many local florists have created a page on Lokaler Florist so that you can order a beautiful bouquet online too. It works almost the same as it does in the store. Home delivery in just 3 steps!
1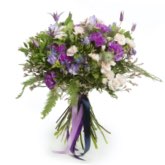 Order your unique bouquet online.
Choose bouquet
2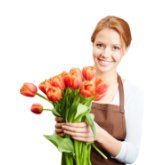 The specialists at your florist will get to work with your wishes.
Your florist will start creating for you.
3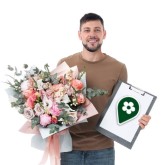 Delivery or collection in the shop, your florist will take care of it personally.
Ready for delivery of pickup.
Über Blumen Koser
WIR SIND ...ein Familienbetrieb im Herzen Rödermarks seit 1983. Gründerin und Seele des Hauses ist Elke Koser. Floristin, Familienmensch und Mama von Floristin Nummer 2 im Hause Blumen Koser. Sarina Houben (geb.Koser) arbeitet seit 2007 im elterlichen Betrieb mit. Sie ist selbst auch gelernte Floristin und seit einigen Jahren für den Betrieb auch auf facebook und instagram aktiv.
Looking for flowers for an occasion?
We have a unique bouquet for every occasion. View our recommendations here!
Können Sie sich nicht entscheiden? Schauen Sie sich unten die Mustersträuße an, um sich inspirieren zu lassen, oder lassen Sie mich einen Vorschlag machen, der auf einigen Fragen basiert.
Looking for a kind of bouquet?
Below you will find a number of frequently selected products. We adapt every flower arrangement. All creations are unique and contain quality products that match the season.
So viele Menschen, so viele Wünsche. Gerne helfe ich Ihnen bei der Auswahl. Soll ich einen Vorschlag machen, der Ihren Vorlieben entspricht?